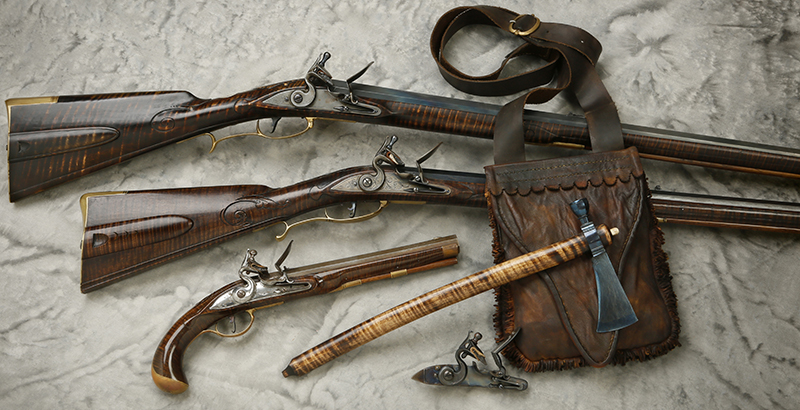 HOME
ABOUT US: In 1986, American Pioneer Video was founded by Jim & Karen Wright. Their first videos were The Preservation of the American Pioneer Crafts Series. The goal of American Pioneer Video was to promote an appreciation of our American heritage and educate through an entertaining format. Creating videos which demonstrate how to recreate either the products or the lifestyle from the 18th century. From 1986 to 2018, American Pioneer Video produced thirty-eight different video projects and one book.
In 2017, Jim & Karen sold American Pioneer Video to Jason W. Gatliff, publisher of MUZZLELOADER magazine. It is our continued goal to produce high quality videos relating to the art and craft of Longrifle Culture of the 18th and early 19th centuries. We are currently scheduling future projects and anticipate releasing at least one new video per year at the annual Contemporary Longrifle Association (CLA) show in Lexington, Kentucky.
OUR NEWEST VIDEO: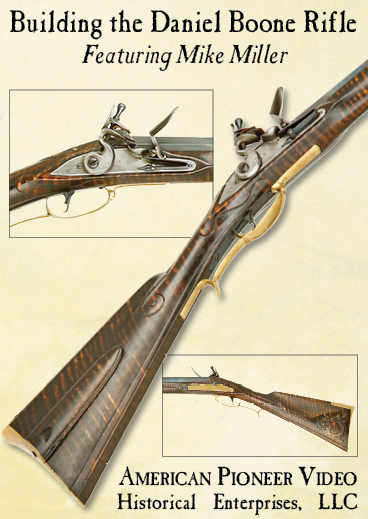 Building the Daniel Boone Rifle featuring Mike Miller
Daniel Boone crossed the Cumberland Gap in 1769 to explore the vast wilderness of Kentucky. Over the course of his life, Boone is documented to have owned many different rifles and a long barrel fowler, but what rifle he carried on his epic journey into the Dark and Bloody Ground is pure speculation. The only reference comes from his grandson Nathan Boone who stated Daniel's rifle he carried into Kentucky shot a one-ounce ball. A .66 caliber!
Noted gunbuilder Mike Miller from Edmonton, Kentucky uses his vast knowledge of American firearms to recreate a likely possibility of what must be very similar to what Daniel Boone would have carried: a brass-mounted, maple-stocked, long-barreled flintlock rifle with a wooden patchbox, featuring bold architecture that was prevalent prior to the Revolutionary War.
Mike demonstrates his techniques to teach how to build this traditional flintlock rifle. Starting with a curly maple stock blank, a long tapered and flared octagon barrel, a lock and some brass castings, Mike demonstrates in detail how you too can build a fine flintlock rifle that would have been common on the frontier among longhunters and early settlers.
This four disc DVD set is 5 hours and 20 minutes of detailed instruction taped in HD on location at Mike Miller's shop. - $59.95 + S&H
OUR GUARANTEE: We want to make sure our customers receive a properly working DVD. If you receive a broken or damaged DVD, or notice a problem when you first view the disc such as the DVD hanging up (stopping), then return the defective DVD to the store you purchased it from, preferably within 30 days. If you bought it from us, then send the DVD to the address listed on the video jacket via U.S. Mail (uninsured) right away. We will replace your title and refund your postage. We do not cover discs damaged by your DVD player, abuse, or mishandling. If you have any questions, please call us at 615-230-9853.

Thank you, Jason Gatliff